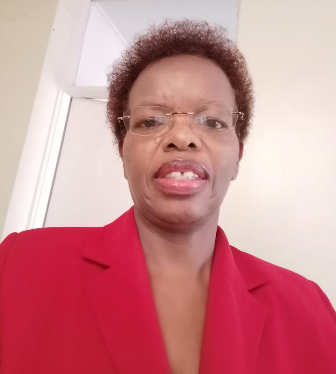 Dr. Angima is currently a Senior Lecturer at the University of Nairobi's Faculty of Business and Management Sciences, Department of Business Administration, with over 20 year teaching and research experience. She is currently the Bcom Academic Programme Leader in the Faculty and Coordinator of the Risk Management and Insurance Option in the Department of Business Administration, as well as the Chair / Convener of the DBA- AMR International conference (2020-present). She was also the Chair, Executive Development Programme and Consultancies in the Faculty (2014-2015). Professionally, Dr. Angima is a Fellow of the Chartered Insurance Institute of London (FCII) as well as the Insurance Institute of Kenya (FIIK).
Dr. Angima has published several articles in peer reviewed journals and mentored and supervised over 100 students at MBA Level She is also involved in development of new degree courses and review of existing curriculum as part of the work requirements. Areas of Specialization include Risk Management, Insurance, Finance, Retirement Benefits Schemes and Social Security, Health Care Structures, Actuarial Studies and Business Strategy. She is also the Faculty's nominee to the research committee of IRA and is involved in reviewing concept papers, research proposals and final research reports / outputs by other researchers hence adding value and enhancing the quality of research, contributing to better results of the outcomes. 
Dr Angima has also undertaken consultancies especially in the financial sector, including the regulators such as the Retirement Benefits Authority and Insurance Regulatory Authority whose realms include regulation, supervision and management of pension schemes. She has had also had a chance to review and make recommendations on governing documents and restructure of the Pension, Group life and Medical Contracts of international pension funds such as the International Fund for Agriculture and Development (IFAD) and International Centre for Research in Agroforestry (ICRAF).
Dr. Angima commits to serve UNIPEN with professionalism, humility, and integrity, with a hands on approach and openness to current issues pertaining to matters of the scheme.